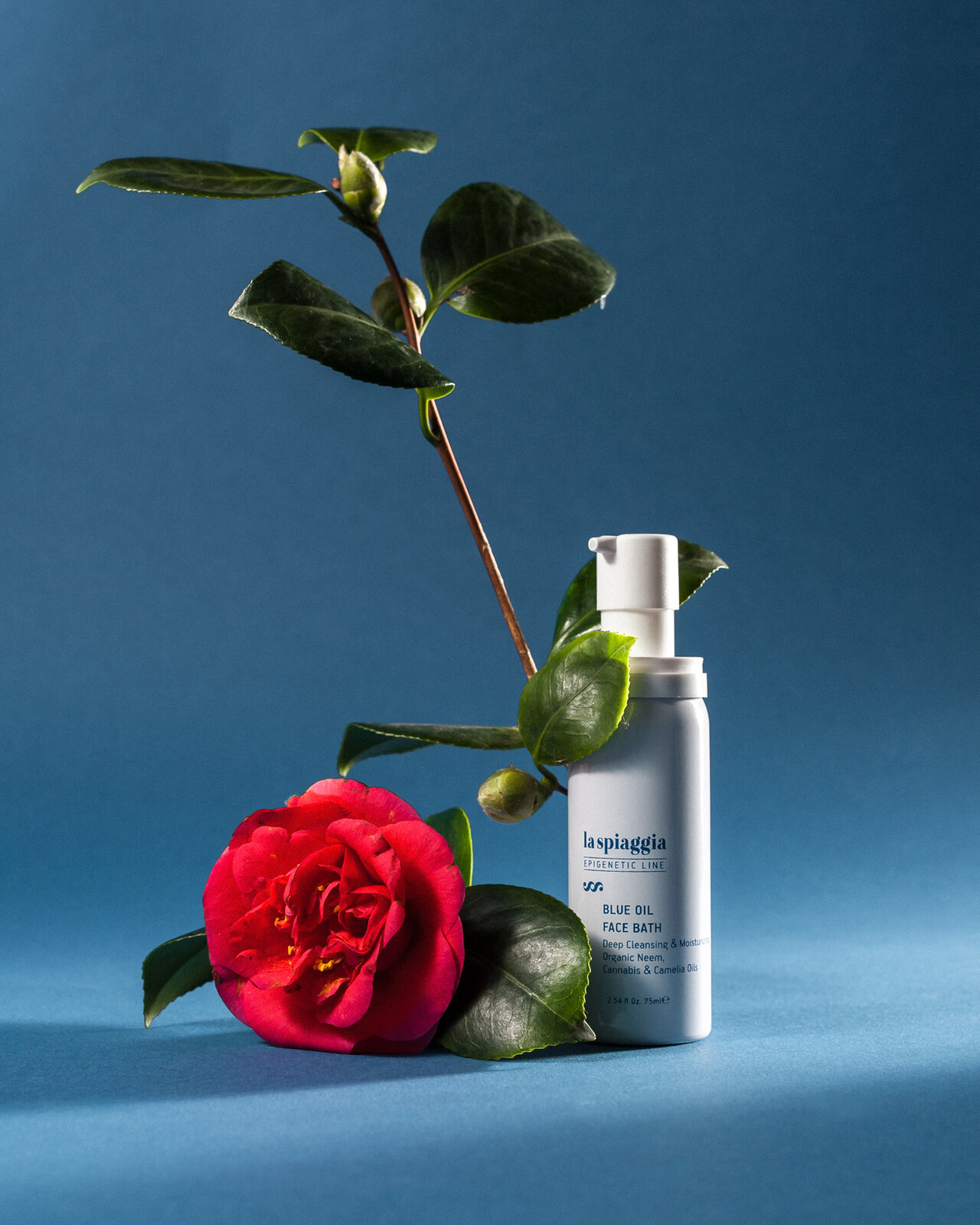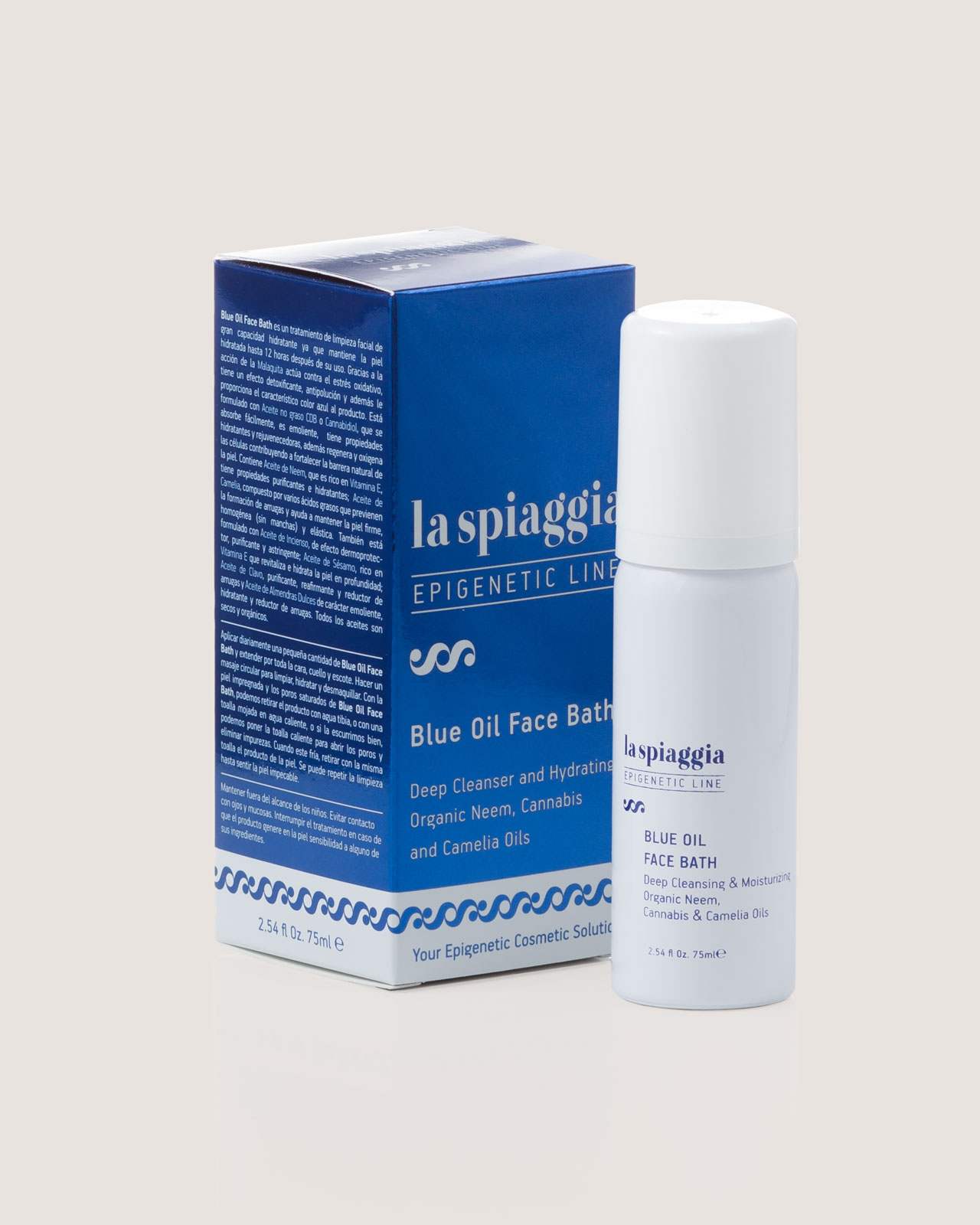 Facial cleansing treatment and make-up remover with a great moisturizing capacity and which, due to the action of Malachite, acts against oxidative stress and provides a feeling of relaxation and well-being. It has a detoxifying and anti-pollution effect. The combination of blue malachite and essential oils gives this cleanser its characteristic greenish-blue tone.
Highlights
Removes make-up and cleanses in depth. Moisturizes and purifies the skin.
Specifications:
Facial cleanser, aluminum bottle with dosing valve 75 ml e 2.54 fl Oz.
Benefits:
Desmaquilla y limpia en profundidad. Hidrata y purifica la piel.
Application:
Apply one or two pumps of Blue Oil Face Bath daily to the palm of the hand and spread over the entire face, neck and neckline. Massage in a circular motion to cleanse, moisturize and remove make-up. With the skin impregnated and the pores saturated with Blue Oil Face Bath, massage again with wet hands and then remove the product with a warm water moistened towel (or directly with abundant water).
If you want to do it as a relaxing ritual: use a towel soaked in hot water and wrung out, apply it on the face (soaked in Blue Oil) to help open the pores and eliminate impurities, feel and benefit from all the essential oils. Remove it with the same towel when it has cooled down.
You can repeat the cleansing as many times as needed, until your skin feels flawless.
Ingredients:
Blue Malachite, Cannabiol, Neem, Camellia, Frankincense, Sesame, Sweet Almond, Clove, Yuzu, Ginger and Bergamot Oils.
Ideal for:
Cleanser and make-up remover suitable for all skin types... And to enjoy a moment of pleasure.
Ingredients
It is formulated with natural and organic active ingredients.
Blue malachite is a mineral rich in copper, with anti-free radical, anti-pollution or anti-stress properties. It reduces the damage caused by aggressions such as ultraviolet radiation and pollution that cause skin aging.
Non-greasy CBD oil or Cannabidiol, which is easily absorbed into the pores, is emollient, has moisturizing and rejuvenating properties. It also regenerates and oxygenates the cells contributing to strengthen the natural barrier of the skin.
Neem Oil, has a high concentration of Omega 3, 6 and 9 fatty acids, so it is rich in Vitamin E, has purifying and moisturizing properties and helps to treat acne.
Camellia Oil, composed of several fatty acids that prevent the formation of wrinkles and helps to keep the skin firm, homogeneous (without spots) and elastic.
Frankincense Oil or Boswellia Serrata, with a dermoprotective, purifying and astringent effect.
Sesame oil, rich in vitamin E, revitalizes and deeply moisturizes the skin.
Clove oil reduces possible skin irritations.
Sweet Almond Oil is emollient, moisturizing and wrinkle reducing.
All oils are dry and organic.