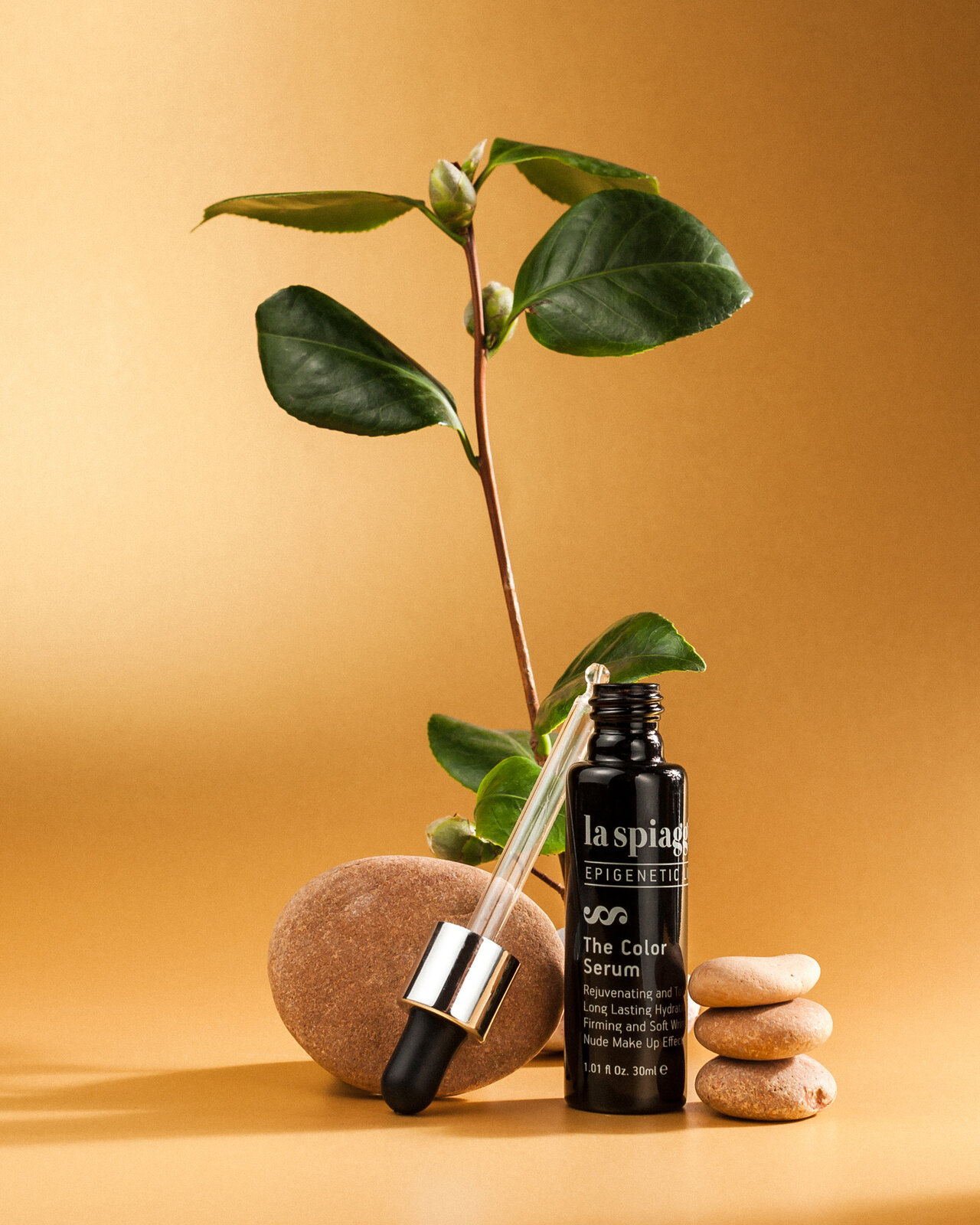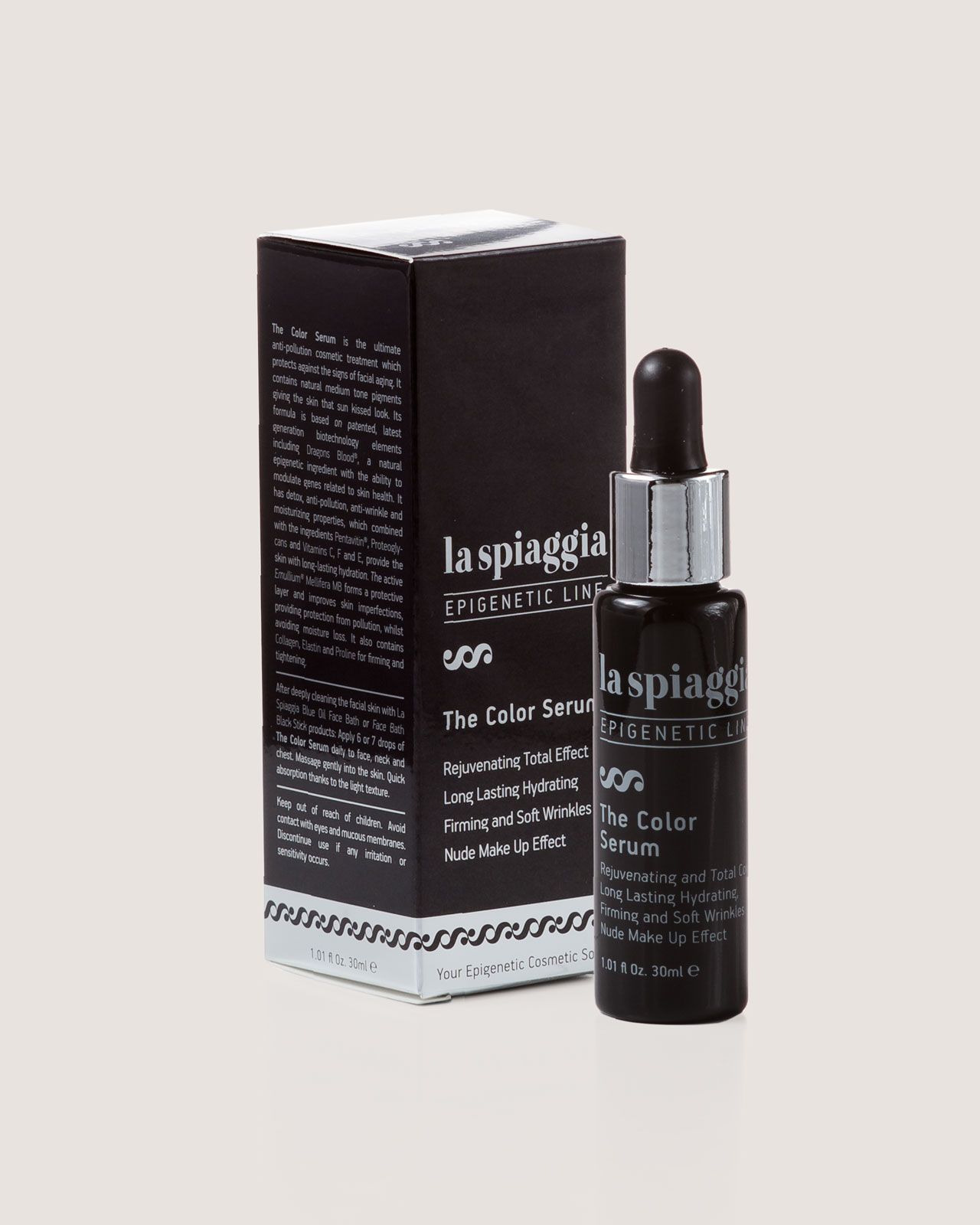 Color and multifunctional treatment 7 in 1: anti-pollution + intensive moisturizer + wrinkle smoothing + firming + pro-elasticity + sun kissed effect color + sensory (its texture and aromas are absolutely joyful). Formulated with SOFT FOCUS NATURAL PIGMENTS (light-reflecting micro-particles that conceal imperfections without a masking effect) and non-transfer (once applied, it does not stain), it contains other patented, biotechnologically advanced ingredients with scientifically proven efficacy that make it an infallible all-rounder for any vanity case.
Highlights
Multifunctional cosmetic treatment based on selected epigenetic active ingredients of proven efficacy. Suitable for all skin types. Provides a natural color with a sun caressing effect. Hydrates the skin up to 72 hours. Protects againts the effects of pollution.
Specifications:
With bergamot and ginger aroma, this pro-youth facial cosmetic with immediate good appearance effect, comes in a glass bottle with dropper 30 ml e 1,01 fl Oz.
Benefits:
Comprehensive rejuvenating effect, long-lasting hydration, smoothes wrinkles and firms the skin.
Application:
Apply 5-6 drops on face, neck and neckline, giving light touches favoring the penetration into the dermis.
Ingredients:
Dragon Blood®, Emullium® Mellifera MB, Pentavitin®, Proteoglycans, Collagen, Elastin, Proline, Softfocus, Vitamins C, F and E.
Ideal for
Anti-aging and epigenetic cosmetic suitable for all skin types at any season of the year.
Ingredients
Formulated with patented active ingredients of proven efficacy and the latest generation of biotechnology.
Softfocus or interference pigments:
Microscopic mirrors that are distributed over the surface of the skin when The Color Serum is applied; when light hits them, it acts by diffusing and reflecting it in different directions, which provides greater luminosity to the skin and uniformity in tone.
Dragon Bloods®: Natural epigenetic active ingredient with the ability to modulate the expression of certain genes (without modifying DNA) related to skin health. It stimulates natural antioxidant defenses, acts on the detox function and facilitates water transport within the cell. It also contributes to reducing skin aging signs by improving the barrier function (smoothing wrinkles and effectively protecting hydration) and enhancing the natural healing process, thus stimulating epidermal restructuring and healing.
Emullium® Mellifera MB:
An adaptogenic protective active ingredient that forms a soft, ultra-light film that subtly envelops the skin and protects it against climatic and seasonal variations. It self-adapts to the environment even in extreme cold or dry conditions. In hot and humid conditions, it is able to stabilize dermal levels so that the skin feels less oily and heavy. In addition, it provides intense, immediate and long-lasting hydration and provides radiance, softness and improved texture and tone.
Pentavitin®:
This epigenetic active activates key genes to improve skin barrier function, maintaining hydration for 72 hours. By increasing water retention in the short term, it improves stratum corneum hydration and provides a medium to long term improvement of the epidermal barrier function, resulting in enhanced dermal smoothness and juiciness, giving the skin a healthier appearance.
Proteoglycans:
Infallible classics of cosmetics, with extensive scientific confirmation of efficacy through hundreds of studies, Proteoglycans increase cell proliferation and metabolism, anti-inflammatory action, the connection of cells with the extracellular components of their environment and communication between cells. They also accelerate healing processes and provide long-lasting hydration.
It is also formulated with Collagen, Elastin and Proline of firming character.
Vitamins C, F and E, with antioxidant and rejuvenating effect.